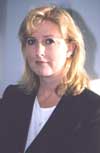 Cara L. Brown, B.A.(Hons.), M.A.
Principal
Office: Calgary
Ext. 201
Education
| | | |
| --- | --- | --- |
| Graduate Econometrics course (audit) | | University of Calgary, 1996 |
| Graduate Labour Economics course | | University of Calgary, 1995 |
| M.A. Economics (Economics & Law) | | University of Calgary, 1988 |
| B.A. Economics (Honours) | | University of Calgary, 1986 |
»
Ms. Brown's Curriculum Vitae
(pdf)
After graduating with a Master of Arts degree in economics and law in 1988, Ms. Brown established Brown Economic Consulting Inc. in 1991. Having worked in the legal community for more than 32 years, Ms. Brown has prepared more than 20,000 reports quantifying economic assessments and damages in civil litigation covering a comprehensive range of cases. She has testified on more than 150 occasions in a number of different courthouses across Canada, including Courts of Queen's Bench in the Yukon, Nunavut, Northwest Territories, the Supreme Court of British Columbia and Newfoundland, Alberta, Saskatchewan, Manitoba, Ontario, Nova Scotia, plus District Courts in Texas & North Dakota, U.S.A. Cases have included both defense and plaintiff work. Testimony in complex civil litigation claims originate from: sexual assault, wrongful imprisonment, wrongful sterilization, motor vehicle accident, medical malpractice, wrongful death, tax gross-up, economic trade disruption, wrongful dismissal, loss of housekeeping capacity and pension valuations. Her expert witness experience has expanded to cover collective bargaining arbitrations and mediation settlements, with a number of notable reports completed by Brown Economic in this area for the City of Calgary and the Alberta Human Rights Tribunal. In very few cases has the court not found her evidence to be useful for its purpose. (See a highlight of various cases in Ms. Brown's
curriculum vitae
and the
"Court Testimony"
page posted on our website.) In 2001, Canada Law Book published
Damages: Estimating Pecuniary Loss
, authored by Ms. Brown. With leading-edge methodologies in economic assessments and as a practical guide for new or experienced lawyers,
Damages
was written in loose-leaf format especially designed to accommodate annual updates. Thomson Reuters published the 26
th
edition in December 2019. Since 1995, Ms. Brown has authored monthly editions of
Brown's Economic Damages Newsletter
(formerly "The Economics Editor"), a free newsletter available to clients and insurers. A topic index of the newsletter topics can be accessed by clicking
here
. The newsletter also offers data on inflation rates and unemployment rates for major metropolitan centres in Canada. In addition, a table showing inflation rate factors to increase non-pecuniary damages completes each newsletter issue. Between 2001 and 2003, Ms. Brown developed and wrote the
Economic Damages NetLetterTM
, an Internet on-line newsletter published monthly by Lexis-Nexis. The NetLetter highlighted case facts that routinely affect determinations of damage awards, complete with analysis of quantum and developing legal economic principles. From 1996-1999, Ms. Brown initiated, developed and taught
Women, Work & the Economy
for the general studies department at the University of Calgary. She has also been a sessional instructor and guest lecturer at the University of Calgary for other undergraduate economics and in the Faculty of Law. Ms. Brown has published more than 20 articles in various publications. She has lectured and presented at more than 70 conferences and seminars throughout Canada and the United States for professional organizations and groups such as the provincial branches of the Canadian Bar Association, various Law Societies, provincial Trial Lawyers' associations (in British Columbia, Alberta and the Atlantic provinces), Lexpert, Canadian Institute, Canadian Defence Lawyers, Infonex, the U.S. based National Association of Forensic Economics (NAFE), and at the annual Western Economic Association International (WEAI) conferences, to name a few. Among Ms. Brown's many memberships and affiliations, she belongs to the Canadian Association of Business Economists (CABE), the National Association of Forensic Economists (NAFE), the American Academy of Economic and Financial Experts (AAEFE), and Canadian Defence Lawyers (CDL). Ms. Brown also supports various provincial trial lawyers' associations (ACTLA, TLABC, STLA, OTLA and APTLA) by hosting exhibit booths at conferences and supplying the organizations with articles for their publications ("The Barrister", "The Verdict" and "The Litigator"). As Principal of Brown Economic with an awareness of the need for community advancement, Ms. Brown has supported local and national organizations through corporate sponsorships and donations. Click
here
to view Brown Economic's community involvement page. Throughout her academic and professional career, Cara was an outstanding world-class athlete in the Canadian sport of Ringette. She is listed in the 2000 edition of
Who's Who of Canadian Sport
, and was inducted into Ringette Canada's Hall of Fame in 2002.